Buying a new TV can be a bit complicated because of the multiple features that modern TVs come with. So, it is important to understand what makes TV-viewing immersive for you. Is it the size, resolution or sound quality that appeals to you the most? Let's take a closer look at some of these aspects so you can make an easier decision.
Here Are the Top 5 Things to Keep in Mind
1.  Screen Size
Up To 81 cm (32)
If HD content (720p) is what you primarily watch, choose an 81 cm (32) TV or one with a smaller screen. Maintain a viewing distance of at least 5 feet for the best experience.
81 cm (32) – 127 cm (50)
If you prefer Full HD content (1080p) from DTH services and Blu-ray players, choose a TV with a screen size between 81 cm (32) and 127 cm (50). In this case, maintain a minimum viewing distance of 6 feet at least.
Above 127 cm (50)
For making the most out of 4K/Ultra HD content, choose a TV with a screen size that's above 127 cm (50) with a minimum viewing distance of 8 feet. Since 4K content is not widely available, ensure that your content sources are in place.
2. Display Resolution
4K (Ultra HD)
Ultra HD or 4K TVs deliver the minutes of visual details and color variations, offering the highest image quality out of all the 3 types of resolutions.
TVs with a screen size of 127 cm (50) and above do a great job of portraying 4K content.
4K TVs essentially quadruples the resolution offered by Full HD TVs with a stunning resolution of 3840×2160 pixels.
Full HD
This will give you significantly better clarity over an HD TV, all the way up to screen sizes of 127 cm (50).
You get a crisper 1920×1080 pixel resolution.
HD
Hn a tight budget? Looking for smaller screen size? Opt for an HD TV.
An HD capable TV produces a resolution of about 1280×720, which is just about enough to watch DTH or regular over-the-air TV programming.
3. SMART TV
Content Discovery
Android TV makes finding and watching new and exciting content on your smart TV simple. Its user-friendly interface is populated with suggested content that you may find interesting.
Voice Search
Use this option by pressing the TV remote's 'microphone voice search button' and stating the name of the programme you want to watch.
Google Assistant
Find and watch shows quickly and get instant answers to queries by using this feature.
Gaming
Enjoy playing single-player, multiplayer, online, or offline games.
Apps & Content
Enjoy a wide variety of content through popular apps, like Netflix, Amazon Instant Video, BBC iPlayer, etc., right from the home screen conveniently.
Built-in Chromecast
Cast your favourite shows, movies, music, and sporting events directly from your Android mobile device onto your big-screen Android TV using the local Wi-Fi network.
TV Operating Systems (OS)
With Smart TVs that have operating systems, you can stream TV shows and movies, listen to music, play games, browse the Net and do much more. They come with a smart remote control and also have app stores where one can buy useful apps to boost their user-experience.
LG's WebOS
Designed for smart TVs and comes with innovative features, such as Magic Remote, Tellybean, LG Content Store, and more.
Tizen OS
Runs on a wide range of Samsung devices and it automatically searches and connects to nearby Samsung mobile devices for seamless transfer of content.
Android TV
Google's operating system for digital media players. These TVs have Google Cast built into them, which lets you cast content from your phone to the TV.
Screen Mirroring
Wirelessly mirror content from compatible devices onto your TV using Wi-Fi. Ideal for seeing photos and videos captured on your smartphone in a larger format.
Picture in Picture
Enjoy watching two programs simultaneously on the same screen with PIP (Picture in picture) technology. One source will be displayed on the television screen, while the other will be displayed in a small inset window.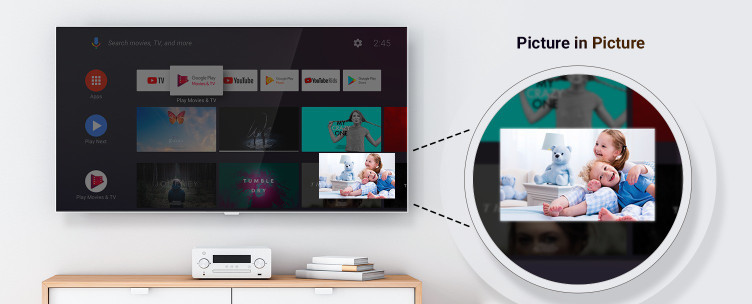 4. Connectivity
5. Sound
Good sound quality is critical for the big-screen TV experience. Here are 3 factors you should consider:
Audio Output
Check the sound rating in watts. A 15 W speaker system is ideal for up to 101.6 cm (40) TVs. Go with a 20-25 W rated sound system for larger TVs for enough headroom for those movie marathons. Some TVs also come with in-built woofers which provide a pronounced bass response.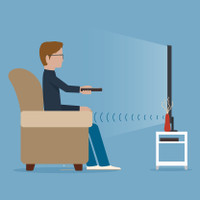 Speaker Positioning
Speakers are mounted either at the bottom or the front. Front-mounted speakers offer the best quality, but the current collection of thinner-frame TVs position the speakers at the bottom. In that case, mount it on a wall for sound waves to move freely.

Sound Customization
Not all rooms and environments are the same. TVs with surround-sound modes and graphic equalizers allow you to fine-tune the sound output.